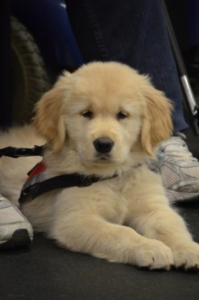 Wyatt is a gentle, responsive, and highly trained Golden Retriever, born December 28, 2015. Shortly after his birth, Wyatt began his training in the United Disabilities Services (UDS) Dog training program in Lancaster, PA: http://www.udservices.org/services/service-dogs. "UDS Service Dogs are trained from pups for over two years by a team of dedicated volunteers and professionals to help people who have a mobility disability live fuller lives, and also work with children who have Autism." Wyatt's early training was focused upon preparation for working with folk in wheel chairs. Much of his training-time also included working with children who benefited from his presence and their opportunity to interact, through touching, petting, and at times reading to Wyatt. Wyatt is also forging new areas of service for these UDS trained service dogs by altering their final phase of training in order to work in emotionally charged environments such as working with client's in counseling practices, with witness and victims testifying in court, and in schools.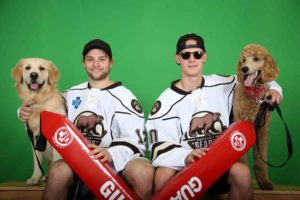 Dr. Gene Devers began training with Wyatt in the summer of 2017. Wyatt was Puppy of July 2017 in UDS calendar, and perhaps the cutest calendar puppy model of all time! Beginning October 2017 Wyatt began participating in an internship program at Philly Family Life Counseling working with Gene. Wyatt became a fulltime staff member beginning in January 2018, following his completion of the UDS training program. Wyatt brings a reassuring calming presence, a tactile experience, laughter, and emotional connectedness in the counseling/coaching relationship and often functions as a co-clinician with Dr. Devers. He burrows his nose between your knees/thighs, when feeling secure with you, signaling that he wants to be petted. This is a trained behavior to say hello and work with folk in wheel chairs and is not "naughty" or "fresh". He loves attention and having his belly rubbed, as much as just quietly hanging out. When not retrieving his favorite ball, his main hobby is sleeping.
In April 2019, Wyatt's service dog training and qualifications were expanded with his certification by K-Pets. Keystone Pet Enhanced Therapy Services mission is to provide a "network of dependable registered pet therapy teams whose passion is Touching Lives, Warming Hearts by providing comfort, encouragement and rehabilitation through human/animal interaction."
Yet Wyatt continues to find time to be a silly playful dog, when not working.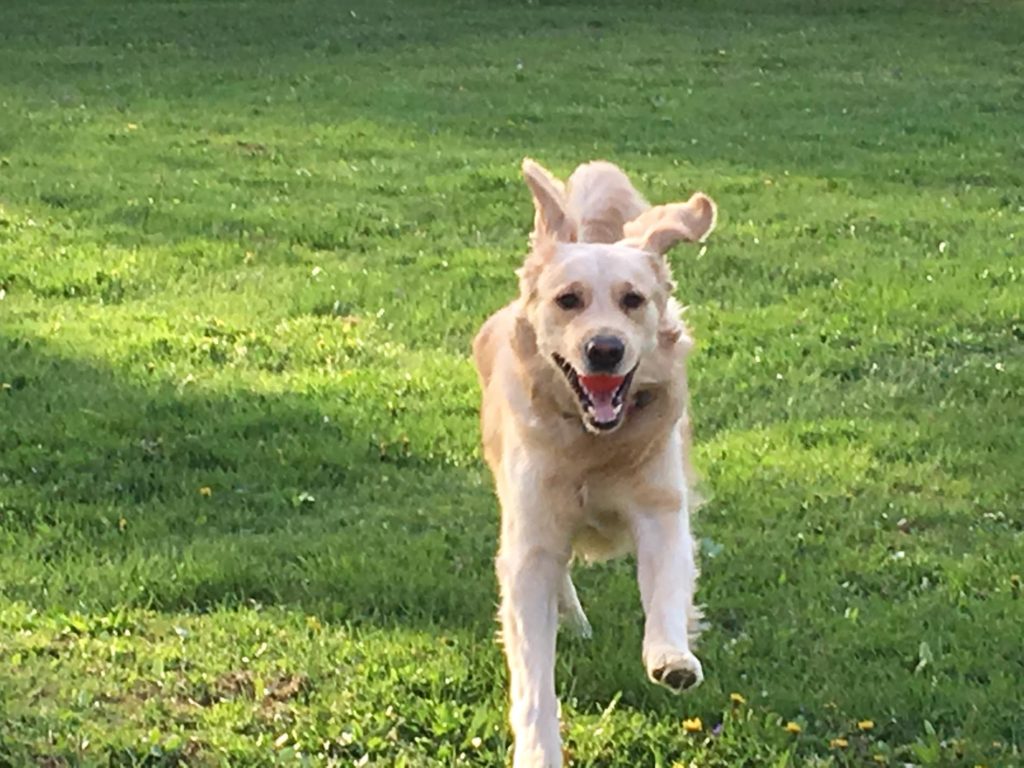 If, when working with Dr. Devers, you prefer not to have Wyatt participate, Wyatt can be released to a non-office space. Wyatt's training, presence, and goal is to encourage, reassure and function as a responsive emotional pillow.