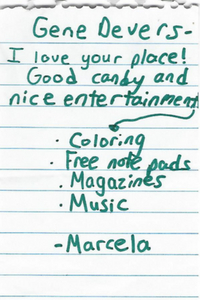 Dr Gene has been a great blessing and wonderful counselor to me, highly professional, very caring, very empathetic, his expertise is hands-down.
I went for counseling sessions with Dr Gene Denvers in 2014, 4 years ago, when I was going through physical abuse trauma flashbacks, anxiety, inter-cultural/inter-racial relationship problems with my boyfriend (now husband, we both went for couple counseling with Dr Gene), issues with my parents and family, difficulty asserting myself and esteem issues. His counseling for me individually first and then my husband (then boyfriend) together with me, had been such tremendous help and it leaves an impact which continue to benefit us today. We still remember the questions he asked us, his suggestions and homework for us that helped us so much. 4 years down the road - I am happily married for 3 years and counting, with my husband who also went for couple counseling with me by Dr Gene; I have spoken up to my abuser, resolved the hurt and made peace; dealt better with my anxiety; asserted myself better at work and had better self esteem, able to say no better. I had lost contact with Dr Gene after relocating in 2015, and I was reading a book the other night and felt that I need to let others know how good his counseling was and I had never let him know how I was doing after all his great work, so I found him on this site and decided to write this review as he so much deserved. When I told Dr Gene about my trauma and problems, I felt that he understood what it was, what it meant to me and how it affected me. He was not just listening or hearing. He truly understands and that is one of the most valuable thing about choosing him as my counsellor among other things. You won't feel like you were talking to a wall or a machine or a person who just sits there to take notes and nods. I felt like I was sharing my problems with an expert who knows, who can help me and who did. He is truly an expert on relationships and helping couple understand each other better. I am an Asian and my husband (then boyfriend) is a Caucasian. We had some communication problems back then that was pulling us apart and withdrawing from each other. Dr Gene helped us to understand by using the questions and guiding us to share, how much communication, cultural barriers and misunderstanding we both had of each other. As a result, we both now communicate better when problem arises, my husband no longer withdraw and I no longer made it worse, but we both learned to lean toward each other. Dr Gene is great, and wonderful at trauma counseling, as I had went through with him. It hurt a lot at first to talk about the past trauma and I cried for days, I was encouraged to go back for counseling and surprisingly, after sometime, the hurt got better, and I was able to see the bigger picture of everything, accepted everything and I found peace. Thank you Dr Gene for playing a big part in my healing process. He also taught me how to assert myself, how to say no, and he also helped me to look at my thoughts and how I can start thinking a different way which can help me better. There is a lot more I would thank Dr Gene for. He is real. He feels with you, he rejoices with you when there are good news. He also encouraged me when times are getting hard or rough- e.g. my abuser coming to town and I got to meet him. It went well. He is great at family dynamics counseling, say if you have problems with your parents or issues in your family, he is great for that, he helped me to see my family problems in perspective and how I can respond or be better dealing with those issues. Thank you Dr Gene Denvers for making my life an easier one. May each client who walked out your door find peace and hope. Don't hesitate, give Dr Gene a try. I'm not sponsored by anyone for this review. Just out of thankfulness in my heart and seeing how much people do need counseling.
It has improved my relationship with my husband, a recovering alcoholic. At first I thought I didn't need counseling but am now glad it's there.
Dr. Devers is seriously the best. He has been extremely helpful to me during a tough time in my life and has not only been there for me but my two daughters as well. I'm so happy I found him. He truly was a God Send!
Our family met Gene for the first time around the summer of 2019 and have been meeting with him for about a year since then. I can say (and write) with full confidence that I finally found someone that could help us with the challenges we were facing with our pre-teen daughter. We have grown from being a family that was really at a loss each time a "crisis" happened, to one that have more structure and functionality with house rules as a safety net for when things go wrong.
We went into the session thinking of how we can "fix" our young daughter but learned from Gene that that wasn't the answer. Instead, he introduced us to a different perspective and taught us through our meetings about effective communication. It involved listening without judgement and also "knowing our audience" when we speak to our daughter and communicate with each other. I also learned many things about setting boundaries and finding a balance between work and life that helped ease my stress and improve my family relationships.
Gene also referred us to other supportive groups that were age appropriate for our daughter to help her with problems kids face now as they're growing up. He was always honest and asked questions that made us parents rethink how to approach different situations with a growing teen so that our relationships are healthier.
I would definitely recommend Gene to anyone who's looking for a therapist who does not fake caring. During our sessions in person and online due to the Covid lockdown, were never rushed and we could tell Gene was fully present and ready to listen and advise.
Another reason why I highly recommend Gene is the setup and location of his office. His office is the second floor of his home and there was never a privacy concern or issues with parking. We also really love seeing Wyatt (Gene's dog) greet us and rubbing his belly.
Thank you Gene for all your help and advice. We are very grateful to have found you and will not hesitate to reach back out should we need your support again.
Excellent. Dr. Devers uses unique counseling techniques. Whether it's individual or couples therapy. He keeps you honest with yourself. Addresses any questions or concerns. He is a true Godsend for our progress.
Doc Devers is a gem. Reading through some of the reviews I feel that certain folks just want to waive a magic wand and see changes immediately. Therapy is an ongoing commitment and the key (at least for me) is having an open mind and willingness to take on someone else's view to your situations. You get out of it what you put into it. I've been working with Doc Devers the last few years since before covid hit. I've taken stretches of hiatus here and there but always welcomed me back happily. He's opened my eyes in many different ways and honestly has helped me learn a lot about myself that I didn't even realize was going on inside. While I still believe I have a lot to learn every session I feel so fulfilled. Thank you Doc!
The Real deal
I have been to a number of therapist over the years and most are frauds. They take your money, waste your time and leave you feeling worse than when you came in. They sit and listen to you offering no solutions or help. Dr. Devers is a radically different therapist. He is super knowledgeable, insightful, and wise. He can be challenging at times to help you see more clearly or move forward out of your comfort zone. Many times I feel like the last thing I feel like doing is going to talk to a therapist but with every visit I am so edified by his wise council. He offers real assistance and real strategies. He gives you a book to record your reflections and experiences. Really I can't say enough.
I've got this
"I've got this" is something I can confidently say because of the guidance given to me by Dr. Gene, and not for any one specific challenge I may be facing, but for all. It's a mindset he helped me to remember and that is to not lose sight of what I want, because as important as it is to consider others, I matter and you can only truly find peace and direction when doing what is best for you. I have left every session with Dr. Gene better than when I came and thinking about things in a way that I might not otherwise have. My experience has been nothing but positive and will continue to be an influential part of my life.
Simply the best!
Gene is the greatest! He has counseled my (now) husband and I through life changes - moves, jobs, family issues, pre-marriage, marriage, first-year of marriage (and all the lovely challenges, adjustments, and excitement it brings), and no matter what we throw at him, we always leave Gene's office - and his therapy dog, Wyatt - feeling like we really accomplished something and moved forward. Better and stronger as individuals and as a couple. I cannot recommend this duo enough ! Thanks for all you do, Gene!
Don't know where I'd be without Gene...
I began seeing Gene over two years ago with my now, X-husband. It was at the end of a severely mentally abusive, manipulative marriage that Gene, genuinely tried to help save. He saw two people, joined together, with children involved, who appeared to want to be together. He also saw my x for what he was, without being judgemental, and helped me realize through my damaged soul that I was not a crazy worthless piece of garbage that my x had convinced me that I was. I was a damaged child with unresolved issues. Despite seeing multiple therapists, Gene was the first one who helped me realize it wasn't all my fault and my depression was not the cause of the end. My depression intensified in a marriage where mental abuse thrived and feed off of my bruised, yet always loving heart. It wasn't until my sister died (just a few months into therapy with Gene) when I finally realized I was dying too, slowly on the inside and it was time to start living. After I split from my x, I continued to see Gene, and still do, on my own. Life has thrown even faster and more dangerous curve balls my way and Gene has been there every step of the way. I cannot recommend him enough, nor could I ever thank him enough. I am not sure where I would be today and if I would even be here. Mental health is so important and finding a good therapist is no easy feat. Check out Dr. Gene Devers! I promise you, he's the best. ❤
Professional and friendly
I have been coming here for over a year now and I would highly recommend Dr Eugene for any of your therapy needs! What a long, wonderful, hard, exhausting but, rewarding journey that we have had together. What a great job you and your staff are doing! Keep up the great work!
High Quality Service
From the moment I walked through the doors of Philly Family Life Counseling, I was met by a warm and welcoming atmosphere. Dr. Devers made me feel comfortable and he is very easy to talk to. I recommend Dr. Devers services to anyone who needs a kind, caring and trustworthy professional to express your most personal experiences with.
Professional service and high quality
Gene works professionally with great technique. Very grateful to have him as a therapist as he has helped me tremendously.
Excellent Therapist - Highly Recommended
Dr. Eugene Devers is an excellent therapist whose care and compassion goes beyond expectation. At each session, I feel a sense of safety, warmth and respect, which makes it easy to discuss and overcome my obstacles. I came to Philly Family Life Counseling needing to discuss a traumatic event that, for a long time, I tried to ignore. Dr. Devers' response was exactly what I needed. He listened; and for the first time, I felt like someone could understand my plight. After hearing me out, he offered solutions, encouragement, and assurance of my ability to overcome. If anyone is looking to be heard and supported by an amazingly compassionate person, I'd highly recommend Dr. Devers. His vast knowledge of what works in therapy, coupled with his warm, funny, authentic personality, is a tremendous gift
Helping a Loving Couple
We as a couple, are very grateful to Gene Devers. Gene used his keen intellect and skilled counseling ability to listen to our issues and to guide us towards a closer, more harmonious union. Gene's soft, but firm compassionate manner helped us to become enlightened to the central themes of the disharmony in our relationship. Through his use of humor, skill and divine guidance he helped us to channel our mutual love for each other in a more positive fashion. We thank God for our experience and we thank you, Gene, for your patience. Bob and Sandy
The Marriage Whisperer
We were at the lowest point in our marriage and not exactly optimistic when we walked into Gene's office in 2013... Gene listened. Really listened. Asked questions to make sure nothing was misinterpreted. Everything about the way he listened said "I care".His eye contact, his gentleness, his compassion for each of us as individuals. The more he listened, the more we began to open up. His questions were insightful. And sometimes a real challenge. He nudged us to look at situations from a point of view other than our own. I learned more about my husband in 2 years of sessions than I had in the first 16 years of marriage. And I'm grateful we took those 2 years, because I can see where we have both learned how to lean into one another, instead of pull away from. There are just some lessons in life that take time to internalize. We knew we were confident enough to talk to and hear one another by the time those 2 years were done. We had the wise words of "the marriage whisperer" embedded in our hearts. Thank you, Gene.
Kind, Caring. And Compassionate
Dr Devers is a kind and caring man that gets involved and truly listens. You look forward to your sessions and to seeing him, as a person. I went for grief counseling after losing my mother, an experience, I thought I could not live through. He made this experience bearable and gave me the tools needed to live thru it, not just get thru it but "live" thru it.
Great Work...Know's his Stuff
Gene is awesome and helped my girlfriend and I learn about the sources of our differences as well as help us figure out how easy it was to obtain a solution to the road bumps we were encountering. He's very good at exposing you to yourself. Which is HUGE for personal development and which is why my girlfriend and I are happier than we've ever been and we couldn't thank Gene enough for the guidance. I highly recommend him and will certainly refer him to family members and friends who may be in need of some guidance in the future.
Wise man!
I have been seeing Gene for some months now for depression and relationship struggles. Because my spirituality is so important to me, it was vital I found a counselor to relate to. Gene hits the nail on the head every session--I haven't felt this good in a long time. I am making strides toward health and my relationship is better than ever. I do not quite know what his "magic" insight is but he gets to the heart of the heart very quickly and helps me refresh my thinking patterns. He is a kind, warm and consummate professional with astounding capabilities in so many areas of his vocation. I have a journey ahead of me and plan to work with Gene as long as it takes. He is a therapist among therapists; he knows what he is doing and takes his clients' well-being very seriously. Gene is a wise, empathetic man, whom I trust to help me be a healthier person. I am very grateful for his time and interest.
Warm, Insightful, Funny, Grounded Counsel
I remember first meeting Dr. Gene. He greeted me kindly, put me at ease, and concerned himself with my hopes for a "good fit" in therapy. I never felt pressured and was repeatedly given the space I needed to grow in my humanity, throughout the process. I saw Dr. Gene for more than a year, usually once a week. He used a combination of client-centered active listening and a cognitive-behavioral approach, often pointing out my all-or-nothing thinking. Dr. Gene also incorporated an understanding of my faith life that helped me move beyond scrupulosity, away from internal division, toward an openness of life and all its struggles and joys. He helped me manage significant relationships and become more productive at work, and always did so with a touch of humor. I would often leave the counseling office with a sense of peace, and on those instances of particular difficulty, I left with a reassurance that I was not alone and had a wise and caring guide by my side to walk with me toward the brighter days. I highly recommend Dr. Gene, and I wish you the best in your journey. There is hope! Dr. Gene will make you laugh, will provide gracious insight, and will help to restore a compassionate inner voice that you can carry away from therapy and into the full spectrum of life experience.
I have been in counseling before, but Gene was a different experience. I came to him because of marital problems. He first said to me "you're not broken and you don't need to be fixed". I thought well that was good to know. As we continued over the weeks he showed me (and my husband) how to use the different" tools" in the tool box for situations in our marriage. He would say "you continue to use a screwdriver to hammer a nail into the wall when it doesn't work". We talked about not doing the same "dance" with each other when problems arose. Once we started to gain more confidence in ourselves, especially me, we found ourselves changing for the better. We started seeing the light of what Gene was teaching us. We spent 2-1\2 years with Gene and we are doing so much better than when we first started. Gene is a very knowledgeable and compassionate therapist. I miss talking with him. I recommend Gene very highly not just for marital problems but for any situation you have. God bless you. Thanks Gene!!
I came to see Dr. Devers after the demise of a very emotionally and mentally manipulative relationship due to infidelity and bad communication. It had gotten to the point where I was so mentally checked out of my life that I felt like I was losing my mind. I couldn't remember anything, dates, times, things I needed to do, etc. I felt like I had no motivation. It was difficult to talk to friends or family about the issues I was having, so I knew that I had to dig down to the deeper issues. Thankfully, I had Dr. Devers to help me. I just cannot begin to express my gratitude for Dr. Devers for helping me through such a hard time in my life. At first I was reluctant because I had never gone to see a therapist for individual counseling before, but this man is so knowledgeable and kind. He used alot of analogies and comparisons that I was able to wrap my head around very easily, and got me to see things in a new light. The way he asks certain questions really makes you dig down into yourself to realize things that honestly, I would have never seen without a different perspective. He uses kindness yet firmness which is something that I appreciated. He has true knowledge of the subjects and specific issues he needs to address, and he has been doing this for a long time. I came to Dr. Devers once a week for about 5 months up until it started to get to the point where I was feeling genuine happiness again and really starting to get my life on track. He was there for me every step of the way, never gave up , and taught me to have hope and faith and to realize that life isn't always black and white. Dr. Devers was always on time. He did not cancel a session in the entire 5 months I was with him. He always offered me water or coffee politely at the beginning of our session. I never felt judged or unaccepted for even one second if I got a bit emotional. Overall, wonderful experience. I am so glad to be writing this review for Dr. Devers. If you are new to therapy like I was, Dr. Devers will provide excellent patient care and give you a new outlook on life itself.
Excellent Therapist
I have never been one to open up to strangers, or therapist for that matter until I met Gene. I have been seeing him for several months and he has really helped me work through several important issues and I can't thank him enough for what he has done.
It is true that, "you get from therapy, what you put in"
Having a capable, attentive, and professional therapist is just as important. Dr. Devers facilitated couples therapy sessions for my wife & I, over the past year. He asked some tough questions of us, some that we learned to accept as baggage. (accept some hard truths) We have found him to be a truthful and considerate therapist with excellent listening skills and a nice guy. We feel, we are better equipped individuals, who are practicing to not step on each other's toes, rather, to move through this dance of life, in unison. Consequently, we are more optimistic about our future together.
I worked with Dr. Devers for almost three years. During that time he not only helped me become a more confident and fulfilled person but he also helped me navigate through a very tough personal situation. He is thoughtful, wise, and compassionate. I would describe his approach to therapy as holistic and outside of the box. He has many tools and is experienced in knowing which one is best for the job. I would highly recommend working with Dr. Devers. His help and guidance truly allowed me to thrive.
I'm a better man now
I spent six months working with Gene. In six months, I changed from feeling generally overwhelmed, unsatisfied and depleted to feeling confident, fulfilled and inspired. He gently and empathetically helped me in building a better character. He aided me in identifying and being mindful of my internal barriers in order to more tactfully navigate life and make decisions that benefit myself and, most times, others on so many levels. In doing this, I've become more respected at work. I've also improved a highly tense relationship with my parents. Most importantly, I've improved my relationship with myself. I couldn't recommend Gene enough. Thanks man.
Gene Devers was an excellent professional who legitimately cares for his patients and shows an extreme passion for what he does. After sessions with him, I felt motivated and more positive about my life. He helped me set goals and gave me the tools to accomplish them.
Wise Therapist, Wonderful Human Being
Two years ago i came to Gene as a very lost and emotionally tired person. The first time you see him you might get a false impression because of his tough, "biker"-like exterior. But if you let that impression get the better of you, you would come away with such a misunderstanding of who Gene is as a person. Having tried multiple therapists throughout the years, I had an emotional connection with Gene that couldn't be touched by my previous experiences. He is such a kind, understanding, supportive, and insightful human being. Two years later, and I'm not sure that the emotional doubts will ever completely go away, but I've grown so much and learned much better coping skills, in huge part, because of him. Obviously, all therapy is about finding a fit. But if you fit with Gene, he can help you become a better version of yourself. I couldn't recommend him enough.
Dr. Devers has helped me change my life in a short period of time. He provides a very comfortable and safe environment. I would highly recommend him to anyone seeking counseling.
I HAVE ALWAYS BEEN ANTI-THERAPIST...EVEN THOUGH I'VE NEVER ACTUALLY BEEN IN THERAPY BEFORE...TO MY DELIGHT GENE HAS TURN THAT FEELING ON IT'S HEAD...HE HAS OPENED MY EYES AND MAY HAVE SAVED OUR RELATIONSHIP...GREAT LEARNING EXPERIENCE THAT GIVE BOTH OF US A DIFFERENT PERSPECTIVE ON VIEWING PROBLEMS AND SOLUTIONS...I COULD GO ON AND ON...BUT TIME IS MONEY AND I'M FLAT BROKE...LOL...THANK YOU GENE AND THANK GOD FOR HIS GRACE
I met Gene,on a emergency.Call where I had a dramatic experience.I never ,sought counseling before gene.So I was definitely in need of help.Gene was very welcoming,from the start.great office.Laid back.But his wisdom and kind words and gentle critique s,to my life.Have made him,a good friend.And I am VERY grateful to know him.
Gene is the type of person who you can sit down with and the next thing you know, three hours has gone by. He's a capable and thorough listener. He gives exceptional advice and can smoothly and easily help you focus on the matter without leaving you to feel as if you are being guided there. My partner and I wouldn't be married now if it weren't for Gene. He helped us find our tool box and equip it with the tools we needed to move from a disastrous place in our relationship to a place of understanding and commitment.
Dr. Devers has been an exceptional therapist. He is helping me work through some longstanding and difficult problems. His approach has been effective in making me want to continually improve. I would recommend to anyone needing help.
I have been seeing Gene for over 3 years, and my life is changed for it. Amongst so many life transitions, Gene was there with attentive ears and a compassionate heart. He is adaptable to situations and curious about people. As I continue to navigate some of life's trials, Gene helps me reposition myself in order to gain various perspectives and in turn, liberating insights. I have learned to be my own person, my own version of adult with Gene's support and interventions.