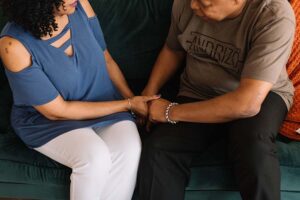 When you're experiencing hard times in your marriage, acknowledging you need help is a great first step toward beginning the healing process. If you've decided it's time for marriage counseling, finding a therapist who understands your relationship with God is important. At Philly Family Life Counseling, Dr. Gene Devers specializes in Christian-based marriage counseling that helps Christians draw from their faith to strengthen their marriage. But how do you know if faith-based marriage counseling is right for you? 
What Is Faith-Based Marriage Counseling?
When facing hardships in your marriage, drawing on your faith can enrich your counseling experience in many ways. Whether your marriage is experiencing hard times due to internal conflict, grief, trauma, addiction, or another challenge, faith-based marriage counseling can help you begin the process toward healing. Here's what you can expect from Christian-based marriage counseling:
Draw on your faith to deepen your connection to God and to each other

A warm environment to speak freely and without judgment

Develop communication skills, trust, and good listening habits as a unit

Strengthen your foundation of trust and faith

Work through doubts, insecurities, and misunderstandings together as a couple

A safe space to work through your experiences and pain by leaning on your relationship to each other and God

Grow to live your happiest and healthiest lives through God
Strengthen Your Marriage Through Faith with Dr. Devers
At Philly Family Life Counseling LLC, Dr. Devers is a counselor and therapist that understands your spiritual beliefs. He is an Ordained Minister with experience in faith-based marriage counseling. Dr. Devers can channel your spirituality to enhance your relationship with God and your spouse. He understands how your relationship with God ties into your relationship with each other. If you and your spouse are interested in Christian-based Marriage Therapy, call Philly Family Life Counseling LLC at 215-677-3810 to learn more and schedule your appointment. You can also fill out our online form or follow us on Facebook for news and updates. You don't have to feel like your marriage is falling apart; start the path toward healing in your marriage today.