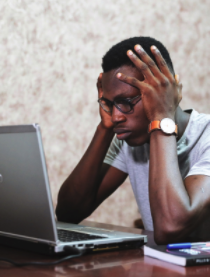 Stress is always something that exists in our lives, but due to COVID-19, you may be wondering how stress is differing during a panic. Like a toxin in the air, stress can do harm to us even if we don't immediately notice it. We typically become aware that stress affects us when we have to make decisions, during major life changes, or when unexpected things happen to us.
However, during a pandemic, stress can affect our everyday lives on a more consistent basis. Decisions we used to make without second thought now can feel life-or-death. Going to the grocery store, medical appointments, seeing our loved ones, these now come with the risk of getting sick and added stress.
Pandemics affect not just our physical health, but our mental health, and stress doesn't just revolve around getting sick. We also face challenges concerning the economy, global health, and political ideas. Social distancing can affect how we use our support systems and family. For some, a pandemic has meant working and teaching children from home. All these factors can build pandemic-induced stress that feels constant and overwhelming. Thankfully, you don't have to treat this stress alone. Stress therapy is a tool that can help you manage and cope with the stress that comes with a pandemic.
The Benefits of Stress Therapy
There are many benefits of stress therapy, even outside of pandemic-induced stress. Stress therapy can:
Help you recognize stressors
Give you the tools to cope with stress
Offer a safe, neutral space to talk through and understand stress
Help you break the cycle of negative feelings and emotions
Be done both in personal and virtually through tele-health services
Stress Therapy at Philly Family Life Counseling LLC
If you have noticed a significant increase in stress due to the pandemic, or stress has begun to negatively impact your day-to-day life, it may be time to consider stress therapy. At Philly Family Life Counseling LLC, Dr. Devers is an experienced therapist that can help you work through and manage stress. Stress therapy appointments can be done through encrypted tele-health services to ensure the safety of both you and your private data. You don't have to let stress control your life. Schedule an appointment today. Call us at 215-677-3810 or fill out our online form. Not quite sure about stress therapy? No problem. Follow us on Facebook to keep up with news and updates.