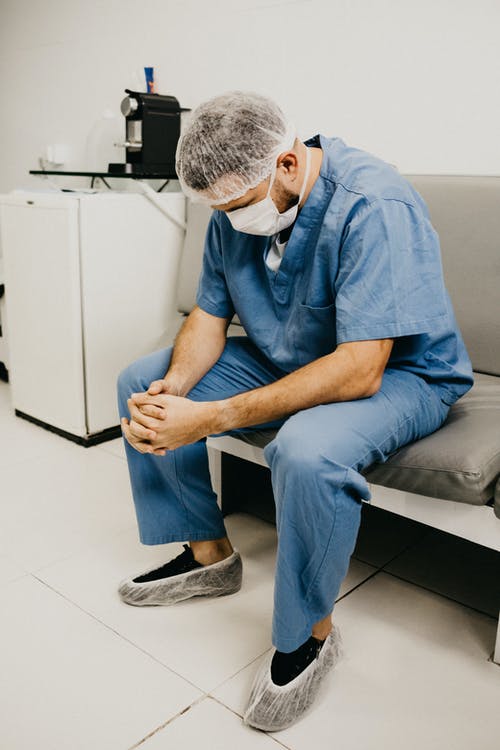 There is no doubt that this pandemic is taking a toll on the mental health of frontline workers, first responders and last responders. Doctors, nurses, paramedics, grocery store employees, warehouse workers, delivery persons, and other essential workers have been burdened with the responsibility of saving lives and continuing to work so others can stay home safely.
When a crisis on this scale first hits, frontline and essential workers may feel that adrenaline keeps them going. Perhaps they're able to work more on less sleep, sacrifice parts of their self-care routine, or develop new coping skills they hadn't needed previously. As we've perhaps all experienced, though, adrenaline is not a bottomless well. At some point, we run out.
What Happens When The Panic Fades?
With several areas in the country beginning to reopen, beaches becoming more crowded, and restaurants opening for outdoor dining, it feels like the panic surrounding COVID-19 has taken a backseat to other things. Healthcare providers, emergency responders, grocery cashiers and others still have to go to work everyday, but as the collective panic subsides, so does the adrenaline. What happens then?
Without adrenaline, which is the body's emergency response to imminent stress, we are left with the emotions that we buried in order to persevere, including: grief, toxic stress, loss, exhaustion, anger, rage, helplessness, and more. These feelings, unacknowledged, can lead to lasting conditions like PTSD, OCD, depression, addiction and more.
The Time to Process is Now: What To Do
One of the most important steps we can take to reducing the negative mental health impacts of this pandemic is to take the time now to process the things we're feeling. While it's especially important for frontline workers and first & last responders to do this, everyone can benefit from taking stock and understanding their feelings. Some of the best options for doing this are:
Designating time for self care. Often at the end of the day, it feels impossible to do anything but get in bed and fall asleep. But making time for meditation, a chat with a loved one, a yoga class or something similar can be exponentially beneficial in the long run. Try not to feel guilty for turning down other activities in favor of ones that serve yourself.
Acknowledge numbing behaviors. We all have coping mechanisms that are less healthy than others, and these behaviors can compound when we're under extreme stress. Things like alcohol or drug use, social isolation, excessive sleeping or compulsive spending can quickly spiral when we feel under attack. Acknowledging your go-to methods for escaping your emotions is a huge step in addressing them.
Speak with a professional. Know that you don't have to do this alone! A licensed counselor familiar with traumatic stress can listen to what you're going through and help you understand what you're feeling and how to process it. Getting professional help early on during a crisis can go a long way toward safeguarding your mental health in the future and during additional waves of this crisis.
Scheduling a Virtual Therapy Session with Dr. Gene Devers at Philly Family Life Counseling LLC
Online therapy makes seeing a professional therapist more convenient than ever. Dr. Gene Devers at Philly Family Life Counseling is a Certified Clinical Telemental health Provider (CTMH) and a Certified Clinical Anxiety Treatment Professional (CCATP), meaning he is capable and dedicated to helping those in need of support—especially the individuals working on the frontline of this pandemic. To schedule an appointment, submit a request through our website or call us 215-677-3810. You can also follow us on Facebook for more insights about mental health and updates about our programs.