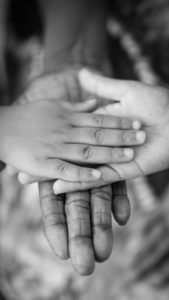 Sometimes it is difficult to know whether family therapy or individual therapy is the best option for your situation. While some struggles seem to clearly require one or the other, it's not always that simple. Every situation is unique and the caring therapists at PFLC are here to tailor your counseling experience to your personal needs.
Family Therapy, Individual Therapy, or a Mix of Both?
Here's a great example of what we mean when we say that not every situation is clear cut. Let's say Sarah has been experiencing a season of depression and wants to develop coping mechanisms through specialized therapy. This is a deeply personal decision and there are things she wishes to work through privately.
A wife and a mother, Sarah's current mental health crisis has caused her to feel like she's struggling to be present in her family. In this situation, a helpful option could be for her primarily to seek individual therapy with occasional sessions that include her partner. Together, she and her partner can learn how to clearly communicate through this season of life. Sarah's partner, in turn, can learn how to most effectively support and encourage her.
PFLC's Commitment to Your Whole Journey
Replace the word "depression" with anxiety, job-insecurity, trauma, bereavement, etc. and the example still stands. What we individually experience may affect our loved ones, but focused and compassionate counseling can help you move forward together. Philly Family Life Counseling's therapy team includes Dr. Eugene Devers and Wyatt the USD certified golden retriever.
Philly Family Life Counseling Specializes in Individual and Family Therapy
If you are interested in therapy or counseling, please contact PFLC through our online form or by calling (215) 677-3810. Calling between the weekday hours of 9:00 AM and 6:00 PM, will bring you to a welcoming staff member who can answer questions you may have about our process.